Small Business Commercial Use License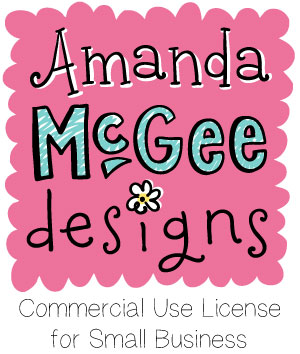 Small Business Commercial Use License
If you are interested in using any of my digital files (digital cutting files purchased through the Silhouette America Online Store) for small business use, please contact me via email at amanda@amandamcgeedesigns.com for further information or you can simply choose to purchase a commercial use license here. You will need a separate Small Business Commercial Use License for each design file you wish to license. If you are not a "small" business but are interested in using one of my designs for mass market commercial use, please contact me directly to discuss licensing options.
This small business commercial use license allows you as a small business owner to use the design file to create hand crafted items for resale. This does not allow you to resell the design file itself, only an item or product that you have created with the design file. Please read terms of Small Business Commercial Use in additional info and contact me via email if you need further clarification.
I'm happy to support other small businesses by allowing for this option and very glad you chose to do the same by supporting my small business!
You may select from three options that best suit your small business needs: sales of 0-50 items, sales of 200 items or less, or sales of 400 items or less. Please indicate which design file SKU# you wish to license.
Number of Items for license:
Small Business Commercial Use License Terms:
Commercial use customers receive a license to create derivative designs using these files, but are not licensed to redistribute them in their original format. This commercially licensed product is to be considered a design tool rather than a final design product; are licensed to the purchaser's computer only; and are not to be shared, loaned, rented, resold, distributed, transferred, or posted across a bulletin board, network, modem, Internet or web page. You may use the products to create finished products for personal use or for small business use for items sold for commercial gain.
The commercial use terms pertain to small business owners who run business from within their home without other employees with exception being family members in the same household. The Small Business Commercial Use does not apply to businesses that mass produce products for commercial gain. Large businesses are not able to purchase a small business commercial use license for use in which they will profit through design redistribution are automatically excluded as clients of our commercial-use customers. These companies should negotiate directly with Amanda McGee Designs for licenses. If you are interested in using and licensing my products for Commercial purposes not outlined in this TOU, please contact me via email at amanda@amandamcgeedesigns.com
Examples of Correct Small Business Commercial Product Use:
Products CAN NOT be sold as is, a derivative product must be created.
• Printed Products
You may create and sell personalized art with Amanda McGee Designs files or fonts and printed physical product is sold to the consumer.
• Creating pre-customized graphics and promotional materials (cards, invitations, logos)
• Party decorations
• Printable Digital Download Files
You may use Amanda McGee Designs products to create digital printable files for sale as long as the product used is designated as Small Business Commercial Use, the item for sale is a finished derivative product (flattened jpg or PDF and not AS IS), and personalized for your customer.
• Customized digital downloadable and printable artwork
• Logo and Web Designs
You may create a logo or design elements with Amanda McGee Designs products and the final images for the logo and web design elements are used to create the website images. This does not include items created for free downloads. Those items can not be created with PERSONAL USE ONLY products, you would need a Small Business Commercial Use License.
• Customized web graphics, blog headers, and banners
• Digital Scrapbooking
You may sell digital products created with Amanda McGee Designs products as long as the items are not sold AS IS, you must create a derivative product. If you are unsure what a derivative product is, please email Amanda McGee. You may not use Amanda McGee Designs products for resale if indicated as PERSONAL USE ONLY. You may use all products for digital scrapbooking for PERSONAL use.
• Using fonts in artwork that will be sold or licensed to third party for resale, as long as permission has been pre-approved and granted by Amanda McGee. You may NOT resell or include the fonts in a download as is, all copyrights are retained by Amanda McGee. You may use the fonts to create derivative finished products, as long as you are a small business. If you are a large business, you will need an extended commercial use license to use the font for commercial gain. Please email Amanda McGee for details. amanda@amandamcgeedesigns.com
• Digital Scrap-for-hire
You may use Amanda McGee Designs products to create digital scrapbooking layouts for hire if it is a Small Business Commercial Use product. You may not use products that are for personal use only.
• Embroidery Digitizers
Fonts may be digitized for use in a computer-driven sewing machine as long as the font creator (such as Amanda McGee at amandamcgeedesigns.com) is credited on both the sales webpage and in the Terms of Use for the digitized font/alpha.
• Teachers
You may use products for your classroom and for course materials that you are teaching. You make create items for sale as long as they are derivative finished products.
Incorrect Small Business Commercial Product Use:
• Templates, blanks, or other products that are offered for sale where the customer can customize it themselves.
• Selling products as is or assembled into a printable sheet and sold without creating a derivative product. Simply placing an image onto a new printable sheet is not considered a derivative product.
These examples are not complete lists, but are guidelines of correct/incorrect usage. Other situations may require the purchase of Extended Commercial licenses. When in doubt, email me and we can discuss the situation or desired usage license.
Small Business Commercial Use Product Copyright Statement
Licensee (the commercial customer/the individual who purchased the product) hereby acknowledges that Licensee is licensing the graphic images/software for commercial use as described.
Licensee hereby agrees to pay liquidated damages to Licensor (copyright holder) in the amount of $5,000.00 for any non-allowed commercial use. In addition, should Licensor incur any attorney fees or other costs in collecting and/or enforcing this liquidated damages provision, Licensee agrees to reimburse Licensor for all such fees and/or costs. The parties acknowledge that the liquidated damages set forth above are reasonable in amount, that actual damages would be extremely difficult or impractical to determine and that any dispute or potential dispute over actual damages would be disruptive to the businesses of the parties so that it is in both parties' best interest to have determined the amount of such reasonable liquidated damages.
The files contained in this e-file are the product of and the copyright is held by Amanda McGee and are being distributed by Etsy. The Licensee may use, copy and modify these files for their own small business use according to these terms: They may design derivative* work that they will personally sell or profit via sales to individuals as a result of their design work using the licensed materials.
They may design for outside companies (partnerships, LLCs, corporations) of which they are not a permanent employee. This outside company may not, in turn, make profit from or redistribute the design work. Exceptions made for font usage with permission and approval.
They may not turn the derivative designs over to any company permanently for any reason.
They may not use the files for design work that will be turned over to another company or individual with the intention that the other company or individual will resell or license the derivative work.
If you need additional commercial licensing not covered in "SMALL BUSINESS LICENSE" commercial use please contact Amanda McGee via email at amanda@amandamcgeedesigns.com
*YOU MAY NOT resell the products as is, all copyrights are retained by Amanda McGee.
You may not sell, loan, rent, or distribute the designs via any method to any individual or company in their original state.
You may not claim Amanda McGee Designs as your own work, altered or unaltered.
You may not sub­license, resell, rent, lend, or otherwise distribute the graphics you purchase.
You may not create unapproved items without contacting Amanda McGee for approval.
You may not make large quantities of your "handcrafted" or personalized items. To qualify for the limited commercial terms, your finished product must not be produced by a 3rd party company. Basically, anyone but yourself (A small home based business owner.) for your OWN small business.(Exceptions made for font usage in art for resale with permission and pre-approved by Amanda McGee Exceptions also made for printing but, you must contact me if you are creating over 400 of the same item for an individual order.)
You may not use Amanda McGee Designs prodcuts to create and sell similar digital graphics, scrapbooking graphics, patterns, fonts, Clip Art.
You may not use for mature content or advertising / websites / blogs etc. related to pornography, hate groups or violent organizations.
Any questions? If you need more clarification, please contact me at amanda@amandamcgeedesigns.com